Visiting Metamora
There's plenty to see and do in Indiana's only Canal town. Take a train ride along the canal aboard the Whitewater Valley Railroad, treat yourself to some delicious ice cream or homemade fudge, go shopping, or enjoy some local music. All this and more is available as you relax and enjoy the town at your own pace.
Eat, Shop, and Stay a while:
There is a great collection of local businesses in Metamora, that provide wonderful oportunities for shopping, dining, and staying overnight. Inquire with each individual business for their respective hours of operation.
Click on any of the categories for a listing of local businesses.
Shopping
Antiques and Uncle Junque
Buttons and Bows
Cindy Lou's
Circle R Candle Company
Connie's Cabin
Frosty Morning Primitives
Forever & More
From The Old School
Grannie's Cookie Jars & Ice Cream
Jackie B's Corner
Metamora Home Decor
Metamora Gem Mine/Luna's Garden
Metamora Mercantile
My Daddy's Passion
Mr Ed's Shop
Mystic Mouse
Now and Then
One Of A Kind
Rustic Rooster
TB Wooden Creations
The Blue Umbrella Gift Shop
The Goodie Bag
The Sap Bucket
The Canal Shops
The Village Smith
The Wooden Melon
Unique Creations
Village Music and Industrial Décor
Village Whimsy
Woodworks Etc.
Words & Images/The Train Place
Wyatt's Antiquities
Lodging
Ayrshire Inn
Connie's Cottage 317-407-7191
White Duck Lodging and Arts Cottage (513)324-5174
Submit or update your business info
If you would like to update your business name or link in this directory, submit your info below.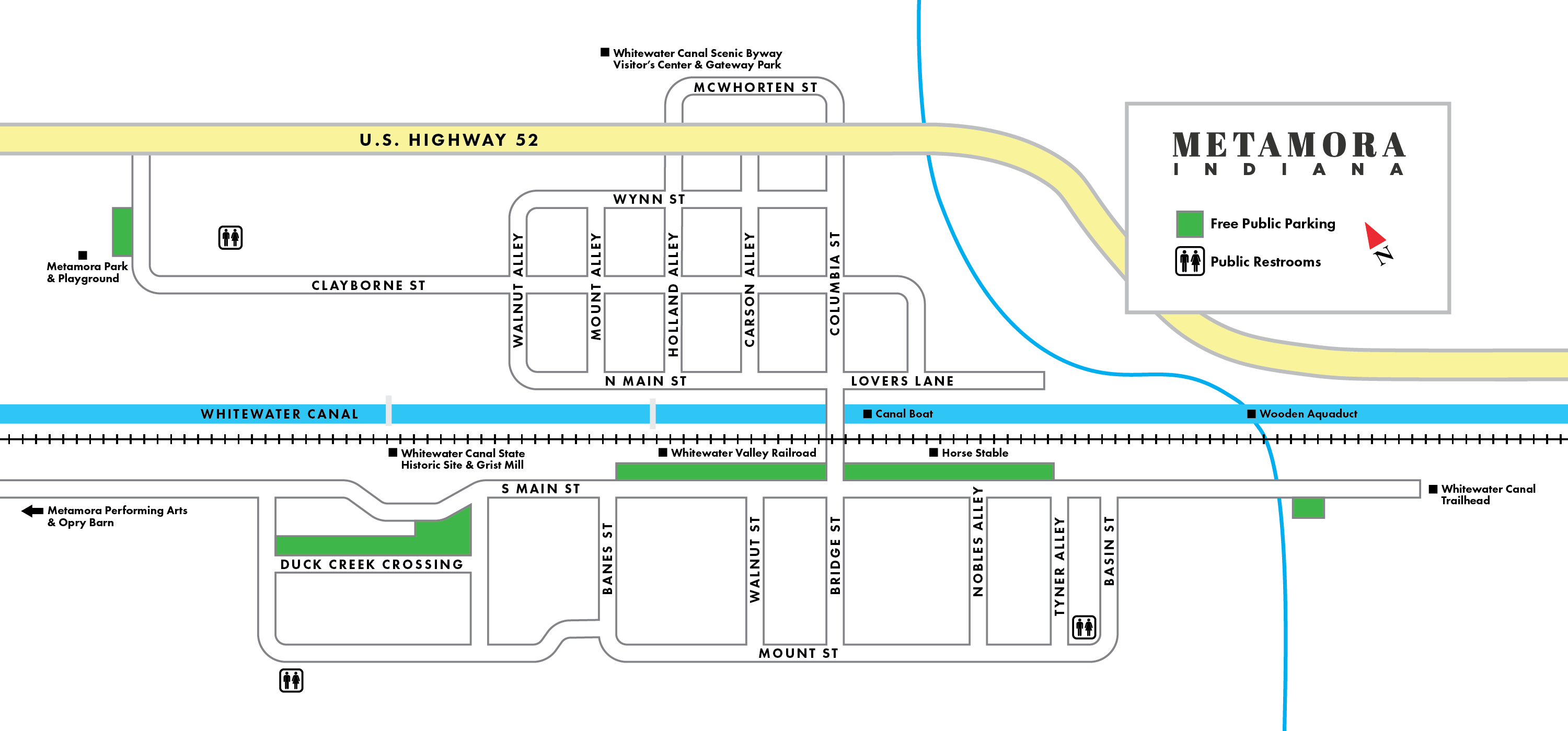 Parking Information
Free parking is available along Main Street and in Duck Creek Plaza except during Canal Days.  Paid parking is typically available right off Highway 52 at the entrance to Historic Metamora on Columbia Street and one west of Columbia at Wynn Street, and adjacent to the Metamora Volunteer Fire Department.  Pay Parking fees vary according to the parking lot.
Free parking for cars as well as for Tour Buses, RVs, and large vehicles is available in the State Museum office parking lot which is located at the top of the hill on Clayborn Street.