Visiting Metamora
There's plenty to see and do in Indiana's only Canal town. Take a train ride along the canal aboard the Whitewater Valley Railroad, treat yourself to some delicious ice cream or homemade fudge, go shopping, or enjoy some local music. All this and more is available as you relax and enjoy the town at your own pace.
The Metamora Gristmill
The crown jewel of attractions in Metamora, see this water-powered mill in action grinding cornmeal and flour. You can also visit the site's museum, highlighting the important role the canal held in Indiana's economic development. The Mill's cornmeal and flour is available for purchase.
Hours and info
April through mid-December hours:
Wednesday through Sunday, 9 a.m. to 5 p.m. 
November hours:
Saturdays and Sundays until Thanksgiving. 
For more information call 765-647-6512.
Whitewater Valley Railroad
The "Metamora Local" travels on a two-mile scenic excursion along the restored canal, past the canal boat dock, a working aqueduct, and a restored lock. The ride lasts approximately 30-minutes. 
The "Valley Flyer" train to Metamora departs from the Connersville depot and offers a 2-hour layover in Metamora for shopping, eating, and site-seeing before returning to Connersville. 
The Whitewater Valley Railroad operates other special events throughout the year.
Hours and info
Tickets for the Metamora Local can be purchased at the Ticket Station on Main Street in Metamora. The Metamora Local operates on the weekends. 
Tickets for the Valley Flyer from Connersville is available by calling the Depot at (765) 825-2054 or by visiting whitewatervalleyrr.org. The Valley Flyer departs at noon on Saturdays and Sundays, May through October (except the 3rd and 4th weekend in June). The train then departs Metamora for Connersville at 3:30 pm to arrive at the Connersville Depot at 5:00 pm.
The Whitewater Canal
Explore the historic Whitewater Canal in Metamora during a 30-minute walking tour and discover how canals served as an early mode of transportation for people and goods. Get up close to the Ben Franklin III canal boat and take a closer look at the Duck Creek Aqueduct bridge – the only one of its kind in the United States!
Canal Boat Horse Stable
Three large draft animals supply the "horsepower" for the state's canal boat. In the 1840's, the mules and horses used on the canal were often stabled right on the canal boat. The Metamora horses are normally stabled on a farm just east of town. The stable is where the horses reside on "work days" in between canal boat trips.
Wood Aqueduct
Metamora, Indiana has the only wood aqueduct still in service in this country. It was built to carry the canal 16 feet above the Duck Creek. It has a clear span (length) of 70 feet. The water cross section is 17 feet wide and 3 feet deep. Restorations by the State of Indiana was undertaken in 2005 to extend the life of the structure.
Canal Lock #24
Gordon's, or Millville Lock #24, was one of 56 locks on the Whitewater Canal constructed to accommodate a 491 foot drop in elevation along its course. The water level could be raised or lowered eight feet. The gates were operated by two men.
Whitewater Trail
Volunteers worked hard to add a major attraction to the southeastern Indiana town of Metamora. A 2.6 mile rustic hiking & biking trail along the historic Whitewater Canal, carrying locals and tourists out into the lush scenery of the Whitewater River Valley. The surface is crushed limestone, packed dirt and grass for walking and off-road biking.
Playground and Shelter
Playground area has swings, a slide, tether ball, monkey bars, wood two story play area, basketball, sand volleyball (bring your own ball) and a baseball field. There are also 2 large shelters with picnic tables. Located west of the State Historic Offices on Clayborne Street.
Metamora Performing Arts & Opry Barn
MPA organizes, hosts, and promotes various performing arts events in Metamora. The Opry Barn is the performance venue of Metamora Performing Arts, handicap accessible. For information on upcoming events, visit metamorampa.org.
Gateway Park
Offering campsites off of  Hwy 52 directly across from Historic Metamora. For information call 765-647-2541.
Looking for more?
There's so much to do in and around Metamora, Indiana! For even more ideas, check out the Franklin County Indiana website to see even more of what there is see and do at franklincountyin.com.
Eat, Shop, and Stay a while:
There is a great collection of local businesses in Metamora, that provide wonderful oportunities for shopping, dining, and staying overnight. Inquire with each individual business for their respective hours of operation.
Click on any of the categories for a listing of local businesses.
Shopping
Antiques and Uncle Junque
Appreciative Treasures
Buttons and Bows
Cat and the Fiddle
Cindy Lou's
Connie's Cabin
Family Touch
Frank and Diana's Unique Gifts
Frosty Morning
Grannie's Cookie Jars & Ice Cream
Jackie B's Corner
Mark Harper Productions
Metamora Gem Mine/Luna's Garden
Metamora Mercantile
My Daddy's Passion
Mystic Mouse
Now and Then
Of the Earth
One Of A Kind
Salt Creek Antiques
The Barn Stable Shop
The Blue Umbrella Gift Shop
The Canal Shops
The Martindale House
The Village Smith
The Wooden Melon
Two Sparrows
Unique Creations
Village Music and Industrial Décor
Village Whimsy
Words & Images/The Train Place
Submit or update your business info
If you would like to update your business name or link in this directory, submit your info below.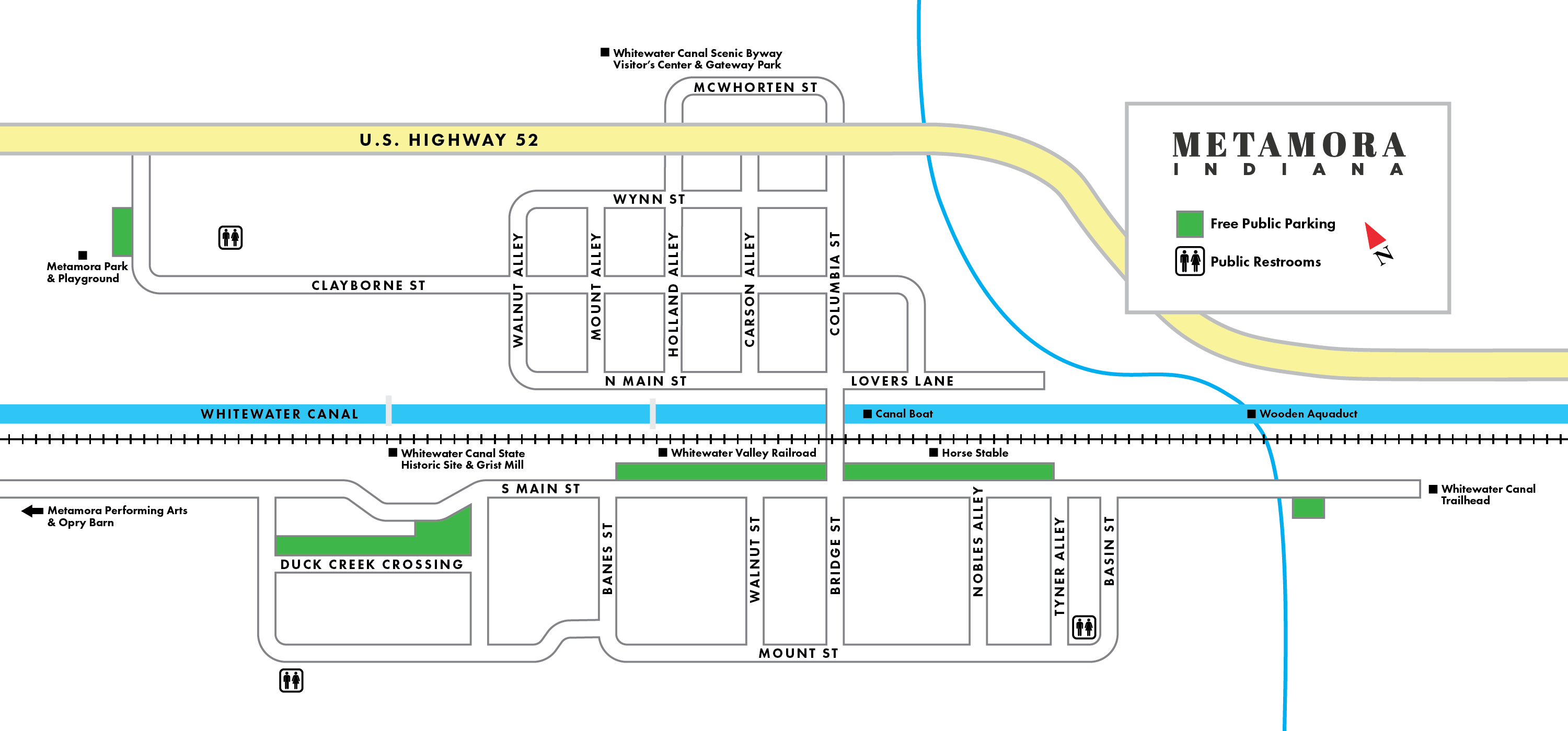 Parking Information
Free parking is available along Main Street and in Duck Creek Plaza except during Canal Days.  Paid parking is typically available right off Highway 52 at the entrance to Historic Metamora on Columbia Street and one west of Columbia at Wynn Street, and adjacent to the Metamora Volunteer Fire Department.  Pay Parking fees vary according to the parking lot.
Free parking for cars as well as for Tour Buses, RVs, and large vehicles is available in the State Museum office parking lot which is located at the top of the hill on Clayborn Street.